Cloud-In-Hand® Mobile Attendance
Meetings • Time Clock • Seminars • Tradeshows • Education
Go Paperless With Cloud-In-Hand.com
Recording attendance via pen and paper is error-prone and time-consuming, tracking people down to verify if they were present is a hassle, and trying to recount from memory all of the contacts who were absent for a specific event is all but impossible.
By using NFC technology, along with Cloud-In-Hand® Mobile Attendance application, companies will be able to gain a much better perspective on their attendance levels, all while reducing the time and cost.
Did you know that companies can reduce up to 70% of the time spent taking attendance when they use an automated system?
Cloud-In-Hand® Mobile Attendance can be used for:
Student Attendance
Employee Attendance & Time Tracking
Shuttle bus and Ridership
Emergency Mustering
Meeting Attendance
Tradeshows and Events
After School Activities
Church Functions
Many More!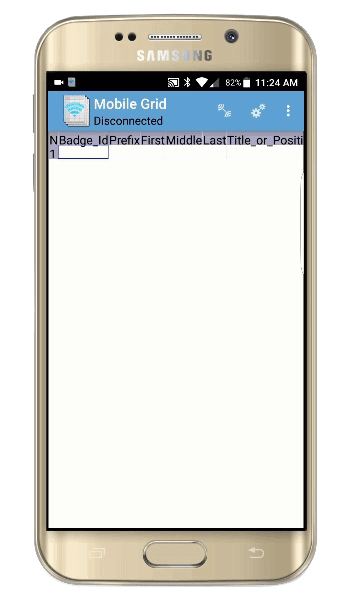 Built For RFID & Barcode
Cloud-In-Hand.com is designed for use with Barcode and NFC-RFID hardware. Scan a tag or a barcode into the app and all of the other fields associated with that tag such as Name, Company, Photograph, etc., will appear instantly. We've made it easy!
Easy Integration
Attendance summaries recorded with the Cloud-In-Hand® app can be synced with existing back-end databases or servers such as FTP, SQL, Dropbox, Google Drive, and Amazon S3. You can also receive your report directly through Email.
Private & Secure
The Cloud-In-Hand® private cloud server provides a distinguishable and secure cloud-based environment in which only the specified user may access. You can even enhance our app's security by giving specified individuals varying levels of accessibility.
One Size Fits All
Use for employee time tracking, meeting and lectures, tradeshow and promotional events, classroom and student attendance, shuttle bus ridership, and more. Need something designed just for you? Contact us today for a custom solution.
Create
Create your session event roster, import your attendee groups and roster fields within Cloud-In-Hand.com.
Download
Download the Cloud-In-Hand® Mobile App to your Android or iOS device and import your session event roster.
Record
Scan your attendees NFC-RFID badges or barcodes during the event to record your session's attendance.
Report
After logging attendees, upload the session record to Cloud-In-Hand.com and receive your report instantly!