Best Contactless Visitor Management RFID & Barcode
You're using paper and pen for visitor management? Maybe you're using a computer solution that's not doing what you need. Ditch it!  Use your current RFID-NFC badges and barcode badges with the best contactless visitor management solution available. You don't buy new badges.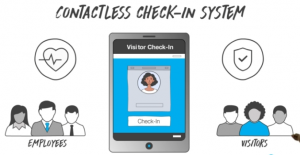 Cloud-In-Hand® brand Attendance Platform improves your visitor management. First, use your existing company employee badges to check-in employees, don't buy more badges. Additionally, you quickly print badges for visitors with all the information you need. Finally, you use a small convenient sized economical printer that can easily be placed with your check-in kiosk.
You reduce your visitor wait times and generate accurate visitor logs in three easy steps.
First, your visitors pre-register using a flexible web form.
Next, your visitors receive a unique QR code via email.
Finally, your visitors present their QR code at the kiosk and check-in instantly.
Visitees Instantly Notified
During your visitor check-in is done, the employee they visit, is instantly notified of visitor arrival by TEXT or EMAIL.
Now, you don't waste time as the visitor contacts someone who contacts the person being visited.
Use custom prompts to get the exact information you need at check-in. First, you can ask health related information. Additionally, you can have visitor sign an agreement/disclosure. Finally, you ask any question(s) you like, and your visitor's and company's experience is unmatched in efficiency.
Additionally, your visitor's attendance is instantly sent to the emergency event management solution. Furthermore, this keeps your visitors are safe during an emergency.  Finally, your visitors check-in at same muster points (rally points) as employees.
Contact us today to implement the best contactless visitor management solution available.