Automatic Employee Check-in
With geofences automatic employee check-in and checkout happens as they arrive and leave. You easily generate reports of on-site activity.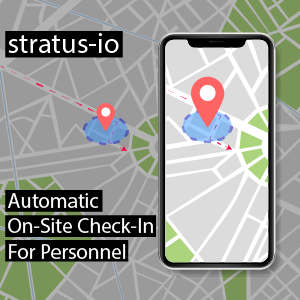 stratus-io: Remote Check-In App Does Automatic Check-in
Your stratus-io solution optionally monitors the geofence areas you define.  Employees are automatically check-in and checked-out when they arrive and leave. First, employees simply keep the app active on their phones, and check-in & out of events or on-site locations happens automatically. Secondly note employees use stratus-io: Remote check-in on their Android or iOS phones. stratus-io also works for your visitors & guests. Also, when you prefer added security, stratus-io makes a credential with a unique QR code.  Finally, the stratus-io Time and Attendance kiosk scans this QR code check-in credential. For iPhones, your employees may use an Apple Watch to present the QR code check-in credential.
How Do Employees Automatically Check-in?
Using the web portal your admin sets up a "Geofence" around your desired location(s) for managing attendance. First, geofences are assigned to an your event or events. Next, in event settings you select to record check-in, checkout, and other details as you like. Thirdly, when roster members assigned to your event enters the Geofence, they get a notification on their phone alerting them of check-in. Simultaneously a check-in event is sent to your cloud account for immediate reporting. Finally, leaving the geofence, your roster members are automatically checked out when you have this event option enabled.
What if I have multiple locations?
No problem! You setup multiple Geofences and assign them to different locations. You can see exactly who showed up to each location and when they left. Additionally, Locations function independently so there is no overlap and you easily see the clear picture in your reports.
Your admins have search and filter results immediately available for all check-in and checkout events since it's immediately sent to your cloud account. Filtered and exported any time and customize the report format to your liking. You want reports automatically delivered at regular intervals? No problem, you are in control.
How can I start using this feature?
Easy as 1,2,3. First talk to your Cloud-In-Hand® stratus-io representative to learn more. Secondly, you'll learn how your organization can benefit.  Thirdly, surprise yourself and your team by how using stratus-io is so easy.  Finally, start using it immediately, and become your company's internal champion.  You will be walked step-by-step through stratus-io setup and deployment, your company (and you) will benefit quickly.  Sign up, reach out to us so we can assist you and understand your needs.
What do you do with the data?
The data is only used to generate reports for your organization that only your organization has access to. We do not use or provide your data with any third party companies.
Contact us today to setup automatic employee check-in for attendance.