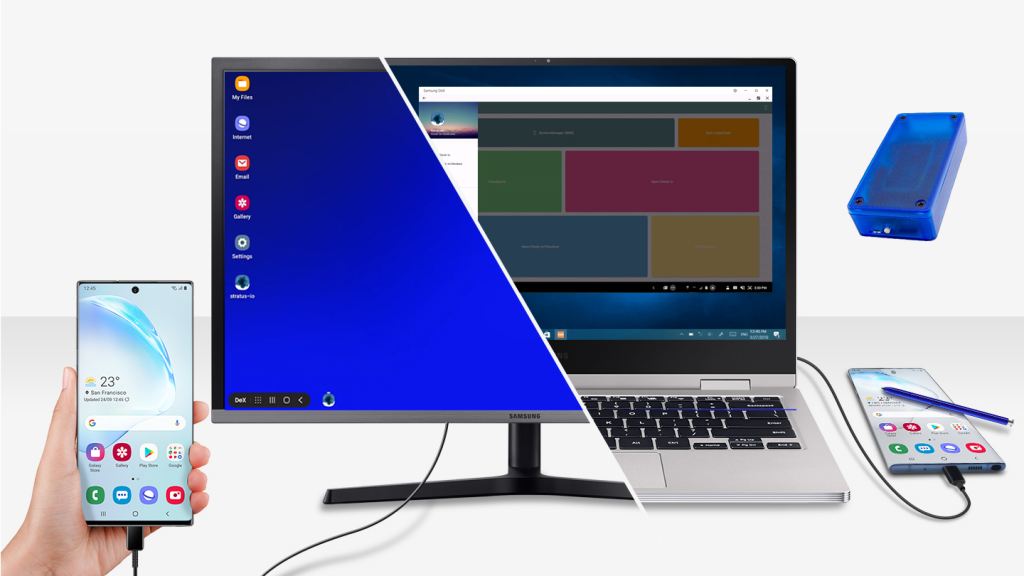 A Full Desktop Interface with Mobile Devices for RFID, NFC, Barcode, & Manual Check-In
Businesses are constantly evolving and developing new ways to save you time and money. Your check-in solution shouldn't be any different.  With data collection being so important to the way businesses track and manage what's going on, it's important that your ability to collect that data is flexible too. While stratus-io maintains its use as the best way to check people in on a mobile device, we recognize that sometimes you don't need to be fully mobile. 
Recently, Samsung announced the newest addition to their latest products, Samsung Dex. Samsung Dex allows you to connect your Samsung device to a Windows PC or Mac and run an entirely independent program on your computer. So what does this mean for stratus-io?
A New Stationary Solution:  Thanks to Samsung Dex, you can now plug your compatible Samsung device into your PC or Mac and run the stratus-io app in a window on your computer. This functionality works with any of our standard Smart Card RFID/NFC Badge readers or Barcode/QR code readers too! Check-ins will display on your computer the same way they would on the mobile app, making it easier to see and manage what's going on at your check-in station.
Make Checking In A One-Tap Process:  With the stationary solution still being compatible with our wireless Smart Card RFID/NFC Badge Readers, like the idChamp® NF4, and Scanfob® Brand Barcode/QR scanners, you can place your scanner in a convenient location to make the check-in process smooth as butter. Let your employees or clients scan their RFID/NFC badges quickly and see their information pop up on the screen!
Uninterrupted Workflow: Because Samsung Dex will operate in its own window, you can allow stratus-io to run in the background on your machine completely. This allows employees to continue working on their PC or Mac during the check-in process while being able to easily manage the application as necessary. If you're lucky and have more than one monitor, you could easily full screen stratus-io on one screen and watch as the check-ins come in!
Windows or Mac: You may be thinking, 'Is Samsung Dex supported on my computer?' Well, Samsung lists the type of supported machines on their FAQ which can be found here. 
Mobile Device Compatibility: Some devices are able to function with Samsung Dex with a standard USB Type-C cable that allow you to plug your phone into your PC. Other devices require additional hardware. Details on what is needed for your Samsung device can be found here. 
While we're continuing to work on bringing more check-in functionality to your computers, solutions like this can enable your business to be more successful. Although we have recently added the ability to check people in from the web (see release notes), allowing you to manually check someone in from the convenience of your browser, it doesn't allow you to use your wireless scanner to speed up the check-in process. In the meantime, grab your Samsung device and scanner to check-in without the hassle of bottle-necking!