Easy Guest and Visitor Check-In and Registration
Print Guest Badges for Fast & Easy Guest and Visitor Check-In and Registration. Account for Your Visitors During Emergencies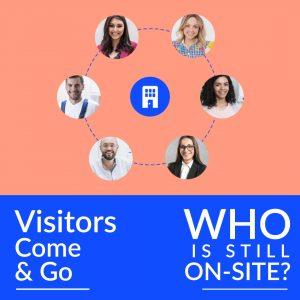 Why you need accurate visitor logs
How much do you know about your on-site user activity? Firstly, your visitors on your job site can come and go constantly.  Secondly, quickly accounting for your visitor and guest activity is often difficult. How can you know who's been on your site for critical for security and safety compliance? Thirdly, using paper sign-in sheets as you know are hard to read and prone to errors.  Wasting your time and costing you money, are what paper sheets do well. Finally, when you have an emergency, running around with a clipboard is inconvenient to say the least. Your solution is stratus-io easy guest and visitor check-in and registration. Check-in your guests and visitors in the blink of an eye. You now have accountability during an emergency.
Your guests and visitors can check-in at an easy-to-use kiosk. Visitors and guests to enter requested information. You can ask for visitor name, who they're visiting, and more. They enter all information important for your safety compliance standards. Also, get their picture with the kiosk.  You'll know exactly who you're dealing with. Your guest badges are automatically printed with your logo, a picture, and  QR code for easy check-in and checkout. When your guests checkout, they select "checkout" from the screen and scan their printed badge. Check-in and check-out of your guests is immediately uploaded to your cloud account for viewing, reporting, even download if needed.
guest and visitor check-in prepares you for emergencies
First, your staff creates an emergency event with the click of a button, during an emergency. Next, stratus-io shows guests who are marked on-site and need to be accounted for their safety. Additionally, you can either scan a guest's badge to mark them as present or manually check them in. Finally, you easily view a list of guests who still need to be accounted for and their information to help you can't find them.
Employees scan their badges for on-site check-in using the idChamp® brand badge scanner shown in the video below. Your idChamp® brand RFID-NFC reader connects wirelessly to the iPad for guest and visitor check-in. Read all employee RFID and smart badge types available, including proprietary formats. Even use Apple Watch for check-in.
Eliminate the hassle of your pen and paper visitor logs. Peace of mind for your business, visitors, and guests is yours today. Also note, stratus-io also offers management options for on-site employees. Use your employee's existing employee RFID-NFC-Barcode badges for easy check-in and checkout. One easy to use system works for your employees, visitors, and guests. Ask us your questions about stratus-io, you'll be surprised how powerful, easy to use, and economical it is.
Contact us today and start easy guest and visitor check-In and registration.