Easy Check-In Now Supported on Apple Watch
stratus-io: Remote Check-In now supports Apple Watch.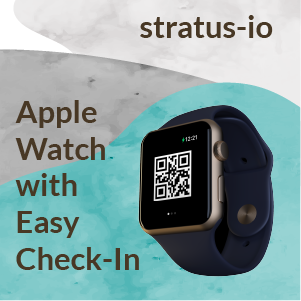 What is stratus-io: Remote Check-In?
stratus-io: Remote Check-In is an app on iOS or Android device used for easy check-in and checkout. Now, personnel are provided with a unique QR code which is scanned at a stratus-io: Time and Attendance kiosk. Additionally, personnel can check-in with the press of a button in the app. Event members can even be checked in automatically with features like geofencing check-in.
Serialio Ltd. continues to innovate with the Cloud-in-Hand ® Solutions Platform. When you're looking for exciting and efficient ways for your business to check-in employees and guests, look no further. Finally, your favorite stratus-io: Remote Check-In features are now available on the Apple Watch. For example, you  can voice dictate messages to admins using your Apple Watch with the iPhone in your pocket or purse. In addition, your Apple Watch also shows your personal check-in QR code. This is handy to support QR code scanning with a reader like the Scanfob® PX20, or with the kiosk built-in camera. Both of these are available using the stratus-io: Time and Attendance app.
Prepare for Any Situation
With a check-in solution available for employees and guests alike, your business can be prepared for any situation. stratus-io enables your business to check-in personnel on-site and easily account for them during emergencies. Quickly set up multiple check-in points for a variety of situations. Efficiently generate reports showing who came/left, and when.
Works for Guests and Employees too
Employees and Guests alike use stratus-io Remote Check-In. First, your organization has an access control system and employees use their access badges to check-in with the LMS. second, you leverage badges with the idChamp® brand badge scanners and stratus-io Time and Attendance app at the rally point(s) during an emergency. They can also check-in during the emergency with their Apple Watch.
Stop using those pen and paper visitor logs. Ask us about stratus-io now! You'll be surprised how easy to use, powerful, and economical the solutions are.
Contact us today to learn how stratus-io can meet the needs of your organization and workflow.